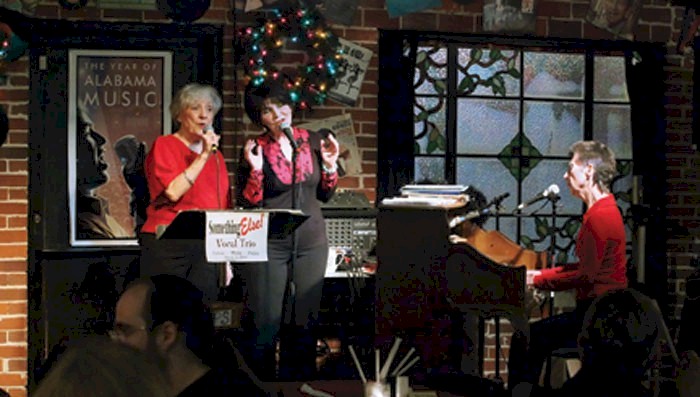 From left to right: Peggy Jones, Merle Dollar and Sylvia Waid
Music runs strong and deep in these three women, whose roots are intertwined through family and community. Sylvia and Peggy ("double" first cousins!) grew up singing and playing in the family band. Both of their families performed around the country during the 20s, 30s and 40s. The girls learned to play piano and accordion, and to harmonize on everything from old standards to Gospel. As young adults, Sylvia sang with another group while Peggy concentrated on the Methodist Church Choir and playing for dance teachers as her own daughter learned to dance.
The music path for Merle Dollar, a distant cousin, started with the Springville Methodist Youth Choir, under the watchful eye of Marianne Morgan. Mrs. Morgan saw the potential and gave her many opportunities to perform for community events at a very young age. At 17, Merle joined a rock and roll group called Pandora's Box with Robin Morgan. They performed all around the Birmingham area for several years. She later joined Fable, a band that toured the Southeast for two years, working her way through college with her earnings. In 1980, she became a school teacher and turned her musical attentions to Broadway musicals, starring in Oklahoma! and performing in many other productions throughout the years.
In 1983, Merle sang in a school function with Sylvia and Peggy. That was the beginning of Something Else! Another cousin, Ann McNabb, also performed with the group for two years. The girls worked hard, perfected their style, and began to perform for wedding receptions, parties and reunions. For the past several years, Local Color Cafe was their home, where every weekend they showcased their special vocal talents and Sylvia's arrangements, which keep their music fresh and original. Local Color may have faded into history, but The Girls are still in tune and on the road!